JAMBERRY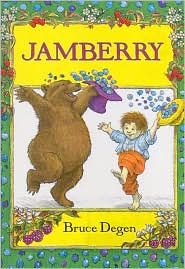 By: Bruce Degen
This story is about a young boy and his bear friend.

The two romp through a world filled will all kinds of berries.

The boy and the bear feast on all kinds of berries, blueberries, strawberries, blackberries and more.

This is a book with fun illustrations and rhyme.

Bruce Degen did a wonderful job with this story!

If you love berries, you'll love this story.
Berry Jam Cookies
Ingredients:
3/4 cup butter, softened
1/2 cup white sugar
2 egg yolks
1 3/4 cups all-purpose flour
1/2 cup fruit preserves, any flavor
Directions:
Preheat the oven to 375 degrees F (190 degrees C).
In a medium bowl, cream together the butter, white sugar and egg yolks. Mix in flour a little bit at a time until a soft dough forms. Roll dough into 1 inch balls. If dough is too soft, refrigerate for 15 to 20 minutes. Place balls 2 inches apart onto ungreased cookie sheets. Use your finger or an instrument of similar size to make a well in the center of each cookie. Fill the hole with 1/2 teaspoon of preserves.
Bake for 8 to 10 minutes in the preheated oven, until golden brown on the bottom. Remove from cookie sheets to cool on wire racks.
Don't Forget The Milk!
Enjoy!