Number The Stars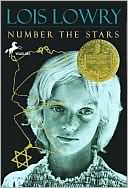 Written by: Lois Lowry
I have recently read Number The Stars by Lois Lowry. This book is about a ten year old girl named Annemarie Johansen and her friend Ellen Rosen. The story told about the Nazis "relocating" the Jews living in Copenhagen, Denmark, in the year 1943 during World War II. Annemarie, with the help of her family try to save her best friend Ellen and Ellen's family, who are Jews from being discovered by the Nazis. That is how Annemarie becomes involved in some scary encounters while trying to save Ellen's life.
Lois Lowry dives into the thoughts of a ten year old girl to tell this tale and does it beautifully. This story shows that there was pride and human decency during a time of terror and war. I am glad I read this book, I hope that you will, too.
Star of David Cookies
Ingredients:
1/2 cup (1 stick/4 oz/113g) unsalted butter, softened
1 (3 ounce) package cream cheese
1/2 cup granulated sugar
1/4 cup honey
1 egg
1/2 teaspoon vanilla extract
2-1/2 cups all-purpose flour
1/3 cup finely ground walnuts
1 teaspoon baking powder
1/4 teaspoon salt
Assorted colored icings, sprinkles and colored sugars
Directions:
Beat butter, cream cheese, sugar, honey, egg and vanilla in large bowl at medium speed of electric mixer until creamy. Stir in flour, walnuts, baking powder and salt until well blended. Form dough into ball; wrap in plastic wrap and flatten. Refrigerate about 2 hours or until firm.
Preheat oven to 350°F. Lightly grease cookie sheets. Roll out dough, small portion at a time, to 1/4-inch thickness on floured surface with lightly floured rolling pin. (Keep remaining dough wrapped in refrigerator.) Cut dough with 2-1/2-inch to 3-inch 6-pointed star cookie cutter. Place 2 inches apart on prepared cookie sheets.
Bake 8 to 10 minutes or until edges are lightly browned. Let cookies stand on cookie sheets 1 to 2 minutes; transfer to wire racks to cool completely.
Decorate cookies with colored icings, sprinkles and colored sugars (blue and white are the most traditional colors, but you can use your imagination when decorating cookies).
Makes 3 1/2 dozen cookies.
Don't Forget The Milk!
Enjoy!