Wreath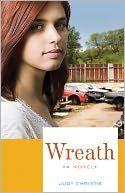 Written by: Judy Christie
Wreath Wisteria Willis just lost her Mother, the only person she had in this world. Wreath is sixteen, by law, too young to be on her own and has no one to turn to. She peers from out of view of others, while they take her Mother's body away, turns and flees before she is caught. Wreath has a plan, she made a list (as she always does), she is heading to Landry, where her Mother grew up. Here she will: 1) find a place to live, 2) buy cheap food, 3) finish high school, 4) get a job, and 5) go to college.
Can a young girl survive, alone, still manage to finish high school and fulfill her and her Mother's dream that she should go to college? Wreath makes a few friends, not totally allowing them into her inner circle of secrecy. She also wants to protect the people she has come to care about. Wreath learns to trust and blossoms, allowing herself to be loved and at the same time, changes the lives of the people who have come to need and love her, as well. Once I started reading this book, I couldn't put it down. I had the great pleasure of reading/reviewing this advanced copy. This is one book to add to your TBR list, make sure you find room in your calendar and your heart for this wonderful read, it is being published by Barbour Books, and hits the stores in October, 2011.
Wreath Cookies
(Makes 15 cookies)
Ingredients:
For Cookies:
¼ cup (½ stick) unsalted butter, at room temperature
1 ½ cups self-rising flour
1 ½ tablespoons freshly squeezed lemon juice
1/3 cup sugar
1 teaspoon vanilla extract
1 egg, lightly beaten
For Lemon Glaze:
1 cup confectioners' sugar
1 tablespoon grated lemon zest
2 to 3 tablespoons freshly squeezed lemon juice
Directions:
1) Preheat the oven to 350 degrees. Spray or grease 2 cookie sheets
2) In a large bowl, with an electric mixer, cream the butter until light. Beat in the flour. Set aside.
3)In a small heavy saucepan, combine the lemon juice and sugar and simmer over low heat for about 3 to 4 minutes, stirring occasionally, until the sugar has dissolved. Remove from the heat and stir in the vanilla. In a slow, steady stream, pour the mixture into the flour mixture. Beat in the egg. The dough will be stiff. Gather the dough together and knead on a lightly floured board or pastry cloth until smooth and pliable.
4) Pinch off teaspoonfuls of dough and roll each piece into a very thin pencil shape, about 5 inches long. When all of the pencil shapes have been formed, form ropes by attaching two "pencils" together at one end and rolling and twisting them together for a braided look, then form into a circle and seal the seam. Set about 2 inches apart on the prepared cookie sheets.
5) Bake in the center of the oven for 16 to 18 minutes, or until the cookies are light golden color and firm.
6.) While the cookies are baking, prepare the glaze. In a small bowl, whisk or beat together the confectioners' sugar, lemon zest, and 2 tablespoons juice. Of necessary, add more juice by the teaspoonful until the glaze is smooth and of spreading consistency.
7.) Using a spatula, remove the hot cookies to wire racks. While the cookies are still hot, spread the glaze over the tops. Let stand on the racks until completely cool.
Don't Forget The Milk!
Enjoy!