The Case of the Missing Snowman
(A Jigsaw Jones Mystery)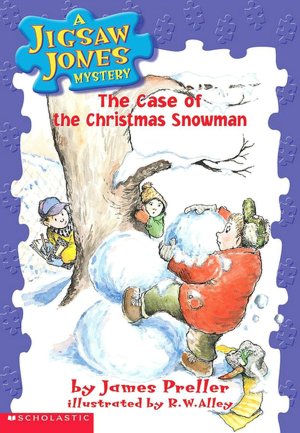 Written by: James Preller
Illustrated by: R. W. Alley

Theodore Jones a/k/a Jigsaw Jones likes to do jigsaw puzzles and solve mysteries. Almost everyone calls him Jigsaw Jones. Jigsaw owns a detective agency with the help of his partner Mila.
In this book Lucy Hiller, a girl in Jigsaw's class, gets to take her dad's rare coin to school (without actually asking). She lets a guy named Bigs Malone hold it, but then it disappears Bigs says that he cannot find it. Bigs is now the prime suspect. But, is he really the one who took the coin? If you like mysteries you would like this book because Jigsaw is a great detective. Read how Jigsaw and Mila ruin Bigs' snowman and find the rare coin.
Overall, this was another fun mystery book to read from the series and I would recommend it to anyone who likes to read a good children's mystery.
Chocolate Snowball Cookies
Ingredients:
1 pouch (1 lb 1.5 oz) Betty Crocker® sugar cookie mix
1/2 cup butter or margarine, melted
1 egg
1/4 cup all-purpose flour
1/4 cup unsweetened baking cocoa
1/2 cup finely chopped almonds
1 teaspoon almond extract
60 Hershey's® Kisses® Brand milk chocolates, unwrapped
3/4 cup powdered sugar
Directions:
1.Heat oven to 375°F. In large bowl, stir cookie mix, butter, egg, flour, cocoa, almonds and extract until soft dough forms.
2.Shape dough into sixty 3/4-inch balls; wrap each around 1 milk chocolate candy. Place 2 inches apart on ungreased cookie sheet.
3.Bake 8 to 10 minutes or until set. Immediately remove from cookie sheet. Cool slightly, about 5 minutes.
4.Roll cookies in powered sugar. Cool completely, about 15 minutes. Re-roll cookies in powdered sugar. Store tightly covered.
Makes About 5 dozen cookies
Don't Forget The Milk!
Enjoy!
Don't forget to stop by and check out my blog give-a-way: