SILLY TILLY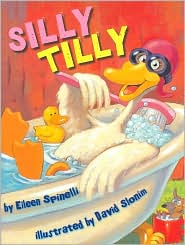 Written by: Eileen Spinelli
Illustrated by: David Slonim
Tilly is a one-of-a-kind silly goose. She makes the other barnyard animals laugh with her silly antics. She takes a bath in apple juice. She tries to ride the famer's cat. Is Tilly too silly. The other barnyard animals start to complain. Silly stops entertaining them with her antics. Soon the animals realize it has been a long time since they had a good laugh. They urge Tilly to go back to her old ways. Eileen Spinelli's story and David Slonim's illustrations are a perfect match!
Barnyard Cookie Recipe
Ingredients:
1 tablespoon almond extract
3/4 cup shortening
1 1/4 cups brown sugar
2 tablesppons milk
1 tablespoon vanilla extract
1 egg
1 3/4 cups flour
1/4 teaspoon salt
3/4 teaspoon baking soda
1 cup chocolate chips
1 cup rice krispies
Directions:
Beat together until fluffy almond extract, shortening, brown sugar, milk, vanilla extract and egg.
In separate bowl combine flour, salt and baking soda.
Add flour mixture to other ingredientsand blend well.
Stir in chocolate morsels and cereal.
Place rounded tsp of batter on cookie sheet.
Bake @ 350 degrees 9-11 minutes.
Don't Forget The Milk!
Enjoy!