Painfully Ordinary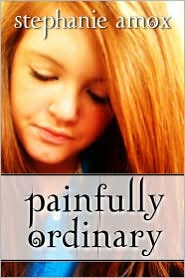 Written by: Stephanie Amox
This is a paranormal/fantasy read. Caitlin and Leah see themselves as painfully ordinary. These two girls know each other well enough, that they could be twins. Until, Caitlin discovers her true identity which changes everything. Discovering just how different she is provides Caitlin lots of dramatic scenes. Caitlin discovers that she is a pixie. How many girls can bring on a thunderstorm when they are angry?
Caitlin's family both blood and magically related are protective of her. She must learn to embrace her birth right and trust in her friends or she risks endangering them all. The various friendships and relationships are believable. There is some exhilarating reading here with some creepiness.
Chocolate Pixies
(one of my favorite cookies)
Ingredients:
1 Half Stick of butter
4 (1-ounce) squares unsweetened baking chocolate
2 cups all-purpose flour
2 cups sugar
4 eggs
2 teaspoons baking powder
1/2 teaspoon salt
1/2 cup chopped walnuts or pecans
Powdered sugar
Directions:
Melt butter and chocolate in 1-quart saucepan over low heat, stirring occasionally, until smooth (8 to 10 minutes). Cool completely (30 minutes).
Combine melted chocolate mixture, 1 cup flour, sugar, eggs, baking powder and salt in large bowl. Beat at medium speed, scraping bowl often, until well mixed. Stir in remaining flour and nuts. Cover; refrigerate (2 hours).
Heat oven to 300°F. Shape dough into 1 1/2-inch balls. Roll in powdered sugar. Place 2 inches apart onto greased cookie sheets. Bake for 15 to 18 minutes or until set.
Don't Forget The Milk!
Enjoy!